For accounts with Negative Diamonds, it is due to refunded transactions and will have to top up the negative diamonds to remove the restriction.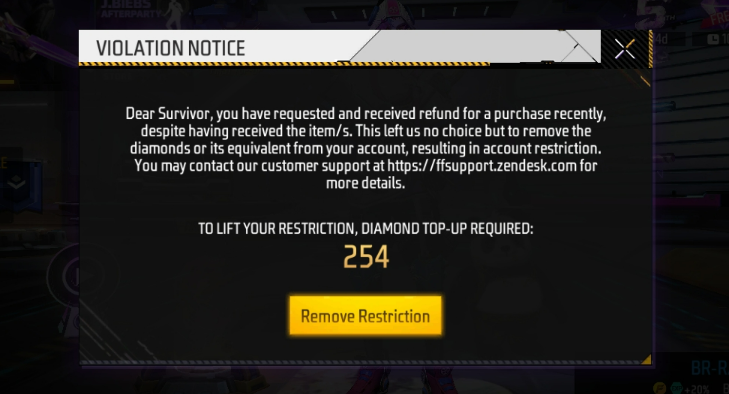 Depending on what transaction was refunded, the exact amount of diamonds or equivalent will be deducted from the account.
To check which transaction was refunded, check your email linked to the account you used to purchase.
E.g. For Refunded transactions in Google Store, log in to your email linked to your Google Play account and search for your Google Play Order Cancellation Receipt
You can also check your Order History in Google (https://play.google.com/store/account/orderhistory)
For iOS:
Go to Settings > [your name] > iTunes & App Store.
Tap your Apple ID, then tap View Apple ID. You might be asked to sign in with your Apple ID.
If you use Family Sharing, you'll see in your purchase history what you bought using your Apple ID, but you won't see what other family members bought. To see what other family members bought, sign in with their Apple ID.
Swipe up to Purchase History and tap it.
NOTE:
Any account with negative diamonds must top-up the required amount shown in the message to remove the restriction regardless of who asked for the refund.
Like any online game, purchased items such as diamonds or Airdrops can sometimes be delayed. In any event that you still haven't received the item/s after 24 hours, simply contact our Customer Service Team and do not ask for a refund from Google or Appstore to avoid diamond restriction.